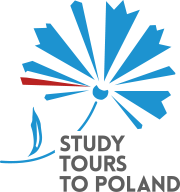 STUDY TOURS
TO POLAND

Study Tours to Poland (STP) are study visits to Poland for students and professionals from Eastern Europe. The objective of such tours is to learn about Poland and share experiences on democratic and free market transformations, establish a state governed by the rule of law, enhance local communities and citizens' initiatives.
The "Study Tours to Poland" Program is run by the Polish-American Freedom Foundation. It was founded in 2004 as part of the "Region in Transition" Program (RiTA), implemented since 2000 by the Education for Democracy Foundation. In 2007-2016, the Jan Nowak-Jeziorański College of Eastern Europe in Wrocław was the STP Coordinator.
WE ALREADY HOSTED ALMOST
7,000 PROFESSIONALS
AND OVER 3,500 STUDENTS
FROM EASTERN EUROPE
Study Tours to Poland –


VISITS FOR PROFESSIONALS



As part of the short-term study visits, representatives of local governments and administration authorities as well as employees of central state institutions and other professional groups may learn about Polish achievements in the field of political changes and experiences of the "Polish path" to EU membership. The tours are organized in small groups, in collaboration with Polish NGOs, government authority units, local government authority units, and central state institutions. To date, mainly representatives of Ukraine, Belarus, Russia, Moldavia and Georgia participated in the STP.
Study Tours to Poland –


STUDENTS' VISITS



As part of the STP path, we would like to invite all outstanding students from Belarus, Moldavia, Ukraine and the Russian Federation (from Kaliningrad Oblast, Novgorod Oblast, Leningrad Oblast and Saint Petersburg) for study visits lasting several days, which are held in Polish academic centers. During the meetings organized by experienced NGOs, the students are given an opportunity to meet Polish academic circles, citizens' organizations and leaders of public life as well as take part in lectures, workshops, seminars and cultural events. The STP for students are coordinated by the "Borussia" Foundation in Olsztyn.
We gather people who believe in the power of change.